Centene Corporation, is a leading healthcare enterprise committed to helping people live healthier lives. The Company takes a local approach – with local brands and local teams – to provide fully integrated, high-quality, and cost-effective services to government-sponsored and commercial healthcare programs, focusing on under-insured and uninsured individuals. Centene offers affordable and high-quality products to nearly 1 in 15 individuals across the nation, including Medicaid and Medicare members (including Medicare Prescription Drug Plans) as well as individuals and families served by the Health Insurance Marketplace, the TRICARE program, and individuals in correctional facilities. The Company also provides a variety of specialty services focused on treating the whole person. Centene focuses on long-term growth and value creation as well as the development of its people, systems, and capabilities so that it can better serve its members, providers, local communities, and government partners.
Valuing Diversity, Embracing Inclusion
In 1984, when Elizabeth "Betty" Brinn founded a single Medicaid plan in Milwaukee, women owned just 10 percent of U.S. businesses. That fact didn't discourage her; she wanted to help people who were falling through the cracks of the healthcare system. For Brinn, the challenge also presented a way to provide employment opportunities for women returning to the workplace.
We are singularly focused in our purpose – transforming the health of our communities, one person at a time. In order to deliver culturally sensitive healthcare to our members, we depend on the diverse ideas, experiences and cultures that our employees, located around the globe, bring to the workplace.
Centene has grown into the largest Medicaid managed care organization in the country and the nation's number one insurer on the Health Insurance Marketplace, with more than one million members. As our business footprint has expanded, so has our commitment to diversity and inclusion. Women constitute nearly 50 percent of our executive team, and almost 60 percent of employees at the director level or above are women. Furthermore, about 30 percent of the company's leadership identify as Asian, African American or Hispanic.
Our People
Our workforce reflects the communities we serve. We thoughtfully engage diverse talent across the company, preparing these employees for leadership roles, and hire diverse candidates who have a passion for serving our members. In total, more than 75 percent of Centene employees are women, and 50 percent of all employees identify as minorities.
Our Approach to Diversity & Inclusion
Along with commitment and advocacy from leaders at all levels of the company, Centene's approach to diversity and inclusion is driven by four key pillars: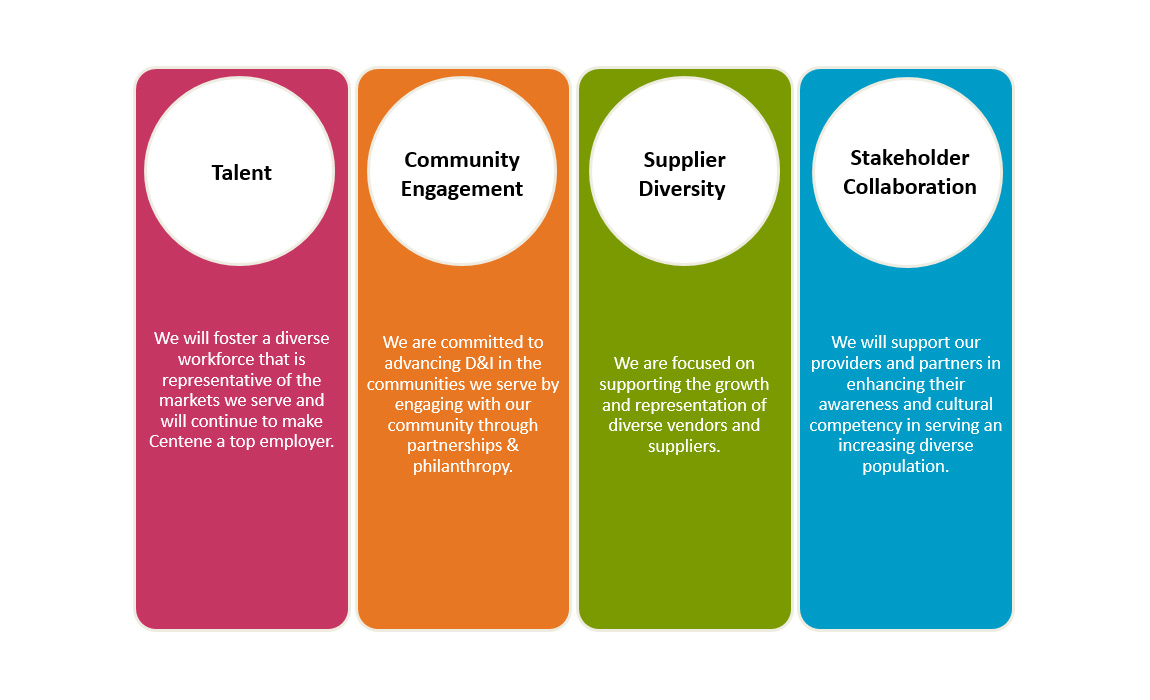 Graphic Description:
Talent: We will foster a diverse workforce that is representative of the markets we serve and will continue to make Centne a top employer.
Community Engagement: We are committed to advancing diversity and inclusion in the communities we serve by engaging with our community through partnerships and philanthropy.
Supplier Diversity: We are focused on supporting the growth and representation of diverse vendors and suppliers.
Stakeholder Collaboration: We will support our providers and partners in enhancing their awareness and cultural competency in serving an increasing diverse population.
National Employer Recognition
We are proud to be among the top scorers in the Human Rights Campaign Corporate Equality Index, as well as the Disability Equality Index, sponsored by the joint initiative of the American Association of People with Disabilities (AAPD) and Disability:IN. Additionally, former Centene Chairman and CEO Michael F. Neidorff was one of the first to sign the CEO Action for Diversity & Inclusion Pledge.